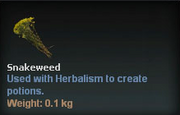 Snakeweed is acquired by by Herb Gathering. It is used to create Moderate Healing Potions, Moderate Mana Potions, and Moderate Stamina Potions through the skill Herbalism. It is found around 17% of the time when herb gathering.
Source(s)
Edit
Ad blocker interference detected!
Wikia is a free-to-use site that makes money from advertising. We have a modified experience for viewers using ad blockers

Wikia is not accessible if you've made further modifications. Remove the custom ad blocker rule(s) and the page will load as expected.