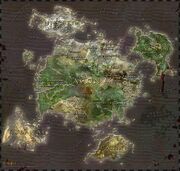 " Niflheim is an icebound, arctic wilderness, home to thriving populations of Ice Giants and Winter Dragons. Flesh-scouring blizzards whip across the mountain plateaus of the interior, where the whiteness is broken by ice-blue glaciers and mysterious lakes whose waters resemble quicksilver. " - Darkfall Online website
Niflheim's southern coast is mostly inhabited by Northmen, a people closely involved with the sea. They rely on fishing, trading and occasional raids on some fertile lands in the south of Nilfheim. Their settlements are mostly connected via ocean; roads are rare.
An Ice Demon called Illgarm started gathering monsters under his rule in the last couple of years, and has even persuaded some of the Northmen to join him in his desire to invade the mainland. Some monster camps have already appeared on the mainland's frozen northern shores. The Ice Dwarves and Ice Giants under his rule are building a large castle that will be Illgarm's seat of power on Nilfheim.
Most of Nilfheim's settlements are located along the coast as the centre of the island is inhabited by dangerous creatures and the landscape is is much harsher.  Due to the harsh landscape and lack of roads, many of the cities rely on their harbour for transport to and from the island.
This Island was once heavily populated by Scare Bears, a clan which have since moved on from Niflheim and ventured forth to take holdings all over the place until finally departing from Agon and Darkfall.
Ad blocker interference detected!
Wikia is a free-to-use site that makes money from advertising. We have a modified experience for viewers using ad blockers

Wikia is not accessible if you've made further modifications. Remove the custom ad blocker rule(s) and the page will load as expected.