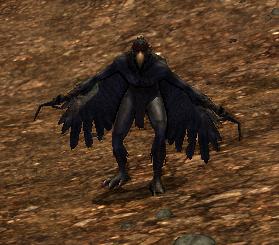 Spellcasting Birdman. Easy to medium difficulty mob. Good source for reagents and R2 Daggers.
Twin Daggers
-
Launch (knockback, red effect, no damage or arcane/impact damage)
Fire Resistance: very high
Arcane Resistance: moderate
Very easy to shoot down with archery. They often flee from melee distance so melee is not the best choice. Due to their high magic resistances magic is not an option too.
They have a very bad aim with their spells and they can be easily dodged.
Skins for
Edit
Ad blocker interference detected!
Wikia is a free-to-use site that makes money from advertising. We have a modified experience for viewers using ad blockers

Wikia is not accessible if you've made further modifications. Remove the custom ad blocker rule(s) and the page will load as expected.