Ad blocker interference detected!
Wikia is a free-to-use site that makes money from advertising. We have a modified experience for viewers using ad blockers

Wikia is not accessible if you've made further modifications. Remove the custom ad blocker rule(s) and the page will load as expected.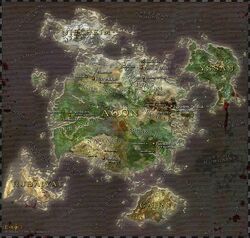 Darkfall
is set in the world of
Agon
. It has one mainland continent, also called Agon, and 4 subcontinents:
Cairn
,
Niflheim
,
Rubaiyat
and
Yssam
. The mainland consists of 6 regions, each being a homeland to one of the playable races:
Mercia
(
Humans
),
Nagast
(
Alfar
),
Mirendil
(
Mirdain
),
Tribelands
(
Mahirim
),
Dvergheim
(
Dwarves
) and
Morak
(
Orks
).
Each of the regions are arranged so that a given race is bordered by enemy races. So, for instance, at the north end of the continent is the Dwarven empire of Dvergheim, bordered on the left by the enemy Mahirim, and on the right by the Orks of Morak.
The following table shows the capital city and neighboring enemies of each of the regions:
Regions Table

| Region | Race | Clockwise Enemy | Counter Enemy | Capital City |
| --- | --- | --- | --- | --- |
| Mercia | Humans | Alfar | Orks | Sanguine |
| Nagast | Alfar | Mirdain | Humans | Shoal |
| Mirendil | Mirdain | Mahirim | Alfar | Charybis |
| Tribelands | Mahirim | Dwarves | Mirdain | Red Moon |
| Dvergheim | Dwarves | Orks | Mahirim | Ymir's Tear |
| Morak | Orks | Humans | Dwarves | Flaming Skull |